Archive for the 'Daisy Jones & the Six' Category
by manon on December 07, 2022
Vanity Fair released an exclusive first look at Daisy Jones & the Six featuring Suki Waterhouse alongside Sam Claflin, Riley Keough, Camila Morrone, Sebastian Chacon, Josh Whitehouse, Will Harrison and more! Along with the first photos, Vanity Faire published an article about the show, you can read it right below. Prime Video also published a short clip announcing the release date of the show being on March 03, 2023. Discover the very first photos of Suki as Karen in our gallery!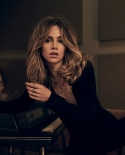 TV Shows Productions > 2023 > Daisy Jones & the Six >
Promoshoot
Vanity Fair — Daisy Jones & the Six Is Getting the Band Back Together in a New Series

It's that age-old answer we've heard from countless rock stars. They do what they do "for the fans."

So you'll just have to call the cast and crew of the upcoming TV series adaptation of Daisy Jones & the Six, premiering on Amazon Prime Video on March 3, rock stars. Based on the wildly popular Taylor Jenkins Reid novel of the same name, an oral history of a fictional band in the '70s with a Fleetwood Mac–like sound (and the attendant backstage drama to match), the show's team is studded with people who are just as obsessed with the source material as the bestseller's many readers. That starts with husband-and-wife executive producers Scott Neustadter and Lauren Levy Neustadter. He's the screenwriter and producer behind such successful adaptations as John Green's The Fault in Our Stars and The Spectacular Now, and she's head of film and TV at Hello Sunshine, Reese Witherspoon's hit parade of a production shingle, recently of Little Fires Everywhere, Where the Crawdads Sing, and The Morning Show. Scott got a prepublication manuscript of the book in 2017, at the beginning of Donald Trump's presidency. "I flipped for it, and really just sort of fell in love with the whole thing," he tells Vanity Fair. "Transporting to the 1970s Laurel Canyon music scene was, like, the greatest gift I could imagine."

Lauren was equally enthused, and the duo signed on for their first project together, throwing work-life balance out the window to immerse themselves in the series. With Reid's blessing, Scott set to work adapting the story with Michael H. Weber, with the goal of "figuring out how to make the experience of watching it the same as we had when we read it." To that end, he retained the structure of the story, with the characters looking back on a long-passed era, but shortened that time span to about 20 years.