Archive for the 'interviews' Category
by manon on December 07, 2022
Vanity Fair released an exclusive first look at Daisy Jones & the Six featuring Suki Waterhouse alongside Sam Claflin, Riley Keough, Camila Morrone, Sebastian Chacon, Josh Whitehouse, Will Harrison and more! Along with the first photos, Vanity Faire published an article about the show, you can read it right below. Prime Video also published a short clip announcing the release date of the show being on March 03, 2023. Discover the very first photos of Suki as Karen in our gallery!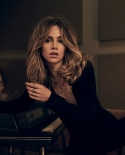 TV Shows Productions > 2023 > Daisy Jones & the Six >
Promoshoot
Vanity Fair — Daisy Jones & the Six Is Getting the Band Back Together in a New Series

It's that age-old answer we've heard from countless rock stars. They do what they do "for the fans."

So you'll just have to call the cast and crew of the upcoming TV series adaptation of Daisy Jones & the Six, premiering on Amazon Prime Video on March 3, rock stars. Based on the wildly popular Taylor Jenkins Reid novel of the same name, an oral history of a fictional band in the '70s with a Fleetwood Mac–like sound (and the attendant backstage drama to match), the show's team is studded with people who are just as obsessed with the source material as the bestseller's many readers. That starts with husband-and-wife executive producers Scott Neustadter and Lauren Levy Neustadter. He's the screenwriter and producer behind such successful adaptations as John Green's The Fault in Our Stars and The Spectacular Now, and she's head of film and TV at Hello Sunshine, Reese Witherspoon's hit parade of a production shingle, recently of Little Fires Everywhere, Where the Crawdads Sing, and The Morning Show. Scott got a prepublication manuscript of the book in 2017, at the beginning of Donald Trump's presidency. "I flipped for it, and really just sort of fell in love with the whole thing," he tells Vanity Fair. "Transporting to the 1970s Laurel Canyon music scene was, like, the greatest gift I could imagine."

Lauren was equally enthused, and the duo signed on for their first project together, throwing work-life balance out the window to immerse themselves in the series. With Reid's blessing, Scott set to work adapting the story with Michael H. Weber, with the goal of "figuring out how to make the experience of watching it the same as we had when we read it." To that end, he retained the structure of the story, with the characters looking back on a long-passed era, but shortened that time span to about 20 years.
by manon on July 10, 2022

Suki Waterhouse is featured on the newest cover of the magazine Behind the Blinds. Alongside a gorgeous photoshoot by Shane McCauley, Suki gave an interview that you find right below. As for the photos, they've all been added to the gallery!
BEHIND THE BLINDS — The London born model-actor-singer Suki Waterhouse has released her debut album, 'I Can't Let Go', a project that's been some time in the making, which is only a testament to its brilliant beauty. It's a body of work indebted to all the emotional layers buried inside her, brewing into a soulfully delivered lo-fi alt-pop journey of melodically painfuland playful storytelling, with a stylish self-indulgence that we can all relate to, as a generation living inside our heads. Here we catch up with her on Zoom for a chat while she's boiling eggs for breakfast, even though it's 5pm in London, she's still on LA time. "I'm like morning, it's 5pm [she laughs], I just haven't been able to get myself time-adjusted yet."

So let's talk music Suki, you're full steam ahead with that now, tell me everything?

Music has always been a constant to me, but it was something I developed more in private, and I've been releasing the odd record myself since 2016 which has been really fulfilling, but what changed in the last year or two was getting to the point where I really wanted to release a full record. I've also learnt more about what's involved in that process, and the more courage I had the more I decided the time was right to do this. I surprised myself that it ended up happening, but internally I've been yearning to do this for ages.

Were you nervous to share your personal songwriting with the world?

When you're writing songs you're still very much inside of the experience, but you're searching for a new perception of that experience — like being really frustrated with yourself for still feeling really strongly about a person, and you've tired out all your friends talking about it, but you're frustrated with that feeling still knocking around — so you put it into a song. I was nervous, but excited, because when the record came out it's almost like you understand yourself more, and can get further away from being totally wrapped up inside of where you were, and then that perception of it widens when you share it with everyone. I feel like being able to release this record has tied up a whole era for me.
Read More
by manon on June 06, 2022
Styled by Stephanie Sanchez, Suki Waterhouse posed for Josefina Santos in a brand new photoshoot for Nylon Magazine. The singer talked about her debut album 'I Can't Let Go', out since last May and other things. You can find the whole interview right below and the photoshoot is now available in the gallery so don't forget to check it out!
Photoshoots & Portraits > 2022 > Nylon Magazine
NYLON — Suki Waterhouse has a knack for meeting people on the street. It's not something she seeks out, but a testament to some kind unspoken magnetism that surrounds her. When you're near her, you can't help but believe in serendipity.

She recounts how a week ago — just days before the release of her debut album, I Can't Let Go — she was in New Orleans, wrapping filming on the upcoming television series Daisy Jones & the Six, when she discovered Lucinda Williams, whom she had been listening to while recording her own album, was in town. She went to her show, where she randomly befriended one of the tour roadies — "I know, I'm such a groupie" — and next thing you know, she's backstage, meeting one of her idols. "She was incredible," Waterhouse says now. "I didn't want to annoy her too much, but it was just nice to get to say a couple of things. But it was so strange. I've just been talking about her so much and then I got to see her."

Just a few days later, sitting outside of a café in Bushwick where she'll perform two headlining shows at the nearby Elsewhere over the next few days, Waterhouse is put in the reverse role. The groupie becomes the idol. "I'm sorry to be a big dork, but I'm such a big fan," says our waitress, a woman in her early 20s who plays it very cool, as she sets down our tea. "You are playing around here this week, right? I wanted to go but it sold out." Waterhouse beams up from under her shaggy bangs. "Should I try and put you on the list? Write your name down." The waitress retreats inside to grab a slip of paper and a pen. When she returns, she's also armed with a to-go bag with a slice of homemade cake. Waterhouse is genuinely touched. "That's so nice, that cake is so cute," she responds. "OK, I'm taking your name down and I want to see you there singing." Read More